Chris Duke, DVM, President, AHS
Bienville Animal Medical Center
Ocean Springs, Mississippi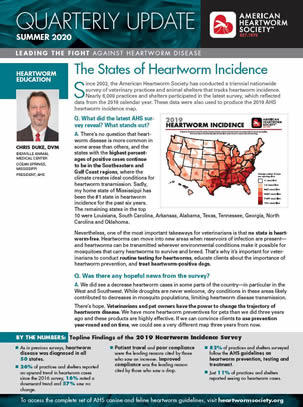 Since 2002, the American Heartworm Society has conducted a triennial nationwide survey of veterinary practices and animal shelters that tracks heartworm incidence. Nearly 6,000 practices and shelters participated in the latest survey, which reflected data from the 2019 calendar year. These data were also used to produce the 2019 AHS heartworm incidence map.
Q. What did the latest AHS survey reveal? What stands out?
A. There's no question that heartworm disease is more common in some areas than others, and the states with the highest percentages of positive cases continue to be in the Southeastern and Gulf Coast regions, where the climate creates ideal conditions for heartworm transmission. Sadly, my home state of Mississippi has been the #1 state in heartworm incidence for the past six years. The remaining states in the top 10 were Louisiana, South Carolina, Arkansas, Alabama, Texas, Tennessee, Georgia, North Carolina and Oklahoma.